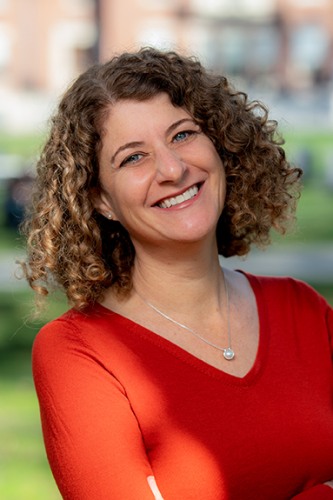 Betsy Shimberg
Senior Associate Dean of the College for Co-Curricular and Experiential Learning
Areas of Expertise
Brown in Washington, Co-Curricular and Experiential Learning Opportunities, Undergraduate Certificates
As Senior Associate Dean of the College for Co-Curricular and Experiential Learning, Betsy Shimberg supervises the co-curriculum team, which includes colleagues responsible for fellowships, pre-professional advising, and undergraduate research. Dean Shimberg has an ex-officio role on the College Curriculum Council, serving as the primary point of contact for academic units developing proposals for undergraduate certificates and developing processes, expectations and guidelines for the review of experiential learning programs, Brown-operated study abroad, domestic study away, and exchange and cross-registration programs, in collaboration with the faculty and staff who oversee these programs. Finally, Dean Shimberg serves as director of the Brown in Washington program, setting direction for program implementation staff at Brown and in Washington D.C., and collaborating with stakeholders across the University. 
Like all academic deans, Dean Shimberg provides academic advising and support for undergraduates, holding weekly advising appointments and serving on the Committee on Academic Standing. In this capacity, she seeks to guide students as they learn to find paths through and beyond the Open Curriculum, develop mentoring relationships, and pursue meaningful experiential pathways that deepen their learning and discover their purpose. 
Dean Shimberg earned her B.A. in history from Wellesley College and an M.P.A. from Columbia University's School of International and Public Affairs. Prior to joining the College full-time, Dean Shimberg served as an Associate Dean of the College and the Director of Student Development at the Swearer Center for Public Service. She was the Interim Director of the Swearer Center from February 2020 until May 2021. Dean Shimberg also was a policy researcher with RI KIDS COUNT and served as the Director of Policy and Planning for Mercer Street Friends, a comprehensive social services non-profit organization in Trenton, NJ. From 2008-2013, Dean Shimberg served on the RI Board of Regents for Elementary and Secondary Education.