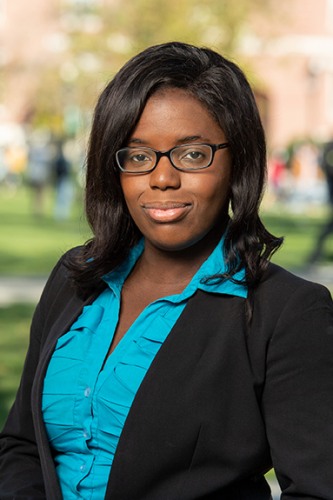 Ludnie Deneus
Associate Director of Financial Advising
Areas of Expertise
Book/Course Materials Support Program, Emergency Funds Curricular & Co-curricular Gap (E-Gap) Funds, Financial Advising
Ludnie Deneus manages the day-to-day operations of the Book/Course Material Support Program (BCMS) as well as advising and support for laptop repair and replacement. She contributes to the implementation of related programs and initiatives for Financial Advising within the College, and brings a strong skill set working with underrepresented, first-generation students and students with high demonstrated financial need. 
Prior to Brown, Ludnie worked in higher education for six years, most recently at Regis College in Weston, Massachusetts. As Assistant Director of Financial Aid at Regis College, she counseled both online graduate students and on-campus undergraduate students.  Before Regis College, Ludnie worked at Benjamin Franklin Institute of Technology in Boston, Massachusetts as the Financial Aid Counselor. Ludnie has led various financial literacy programs and seminars and spearheaded the Women in Technology student organization that provided networking and job opportunities for women in STEM. She also worked for CATS Academy, an international boarding high school, collaborating with colleagues to resolve personal, academic and disciplinary challenges. 
Over the course of her career she has counseled students and parents on their financial responsibilities and obligations, financial literacy and academic progress. Ludnie has experience collaborating across departments in her former roles on diversity and inclusion initiatives and programs. 
Ludnie received her B.A. in Legal Studies with a minor in French from the University of Massachusetts and most recently, her M.A. in International Higher Education & Intercultural Relations from Lesley University. Ludnie grew up in Boston, Massachusetts and is a first-generation college student born to immigrant parents. In her spare time, Ludnie enjoys traveling, reading, and spending time with her family and friends.