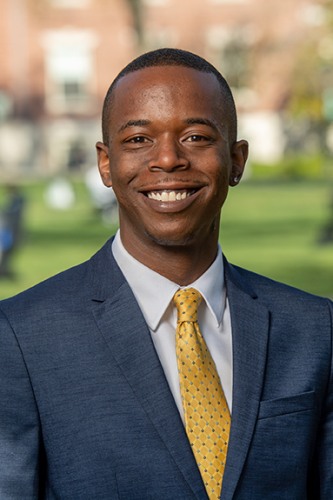 Avery Danage
Transfer & Resumed Undergraduate Education Program Advisor, Assistant Director for the Emergency Gap Program
Areas of Expertise
Emergency Funds Curricular & Co-curricular Gap (E-Gap) Funds, Gap-Top Pilot Program, Orientation, RUE Advising Programs and Support, Transfer Student Advising Programs and Support
As a member of the College's Advising Team, Avery provides oversight of undergraduate programs and initiatives that support students with the Highest Demonstrated Financial Need.In particular, Avery has oversight over orientation and ongoing academic support for the Transfer and Resumed Undergraduate Education community, serving as the primary program contact for students, staff, and faculty to ensure that students are supported in their academic pursuits. In addition, Avery oversees operations and communications of the Emergency Gap Funding Program and related areas. Avery also serves as an academic advisor for assigned groups of undergraduate students, encouraging a sense of community marked by equity, diversity, anti-racism, and inclusion.
Before coming to Brown, Avery worked for the Pew Research Center in Washington, D.C. where Avery managed operations related to the Pew Center's domestic research agenda along with diversity-related initiatives.  Before Pew, Avery spent over 5 years in various roles implementing programs and services aimed at improving and defining student success at Kent State University. As the Program Coordinator for the Student Multicultural Center, he led matriculation and success initiatives, multicultural programming and mentored several student organizations.  
While at Kent State, Avery also served as the Special Assistant for Diversity & Inclusion Leadership and provided leadership for university-wide programming including orientation programs, division level communications and research for the Vice President of Diversity, Equity and Inclusion.   
Avery earned his B.S in Education and his M.Ed. in Cultural Foundations from Kent State University.  In his spare time, Avery also enjoys reading, exercising and running outdoors.