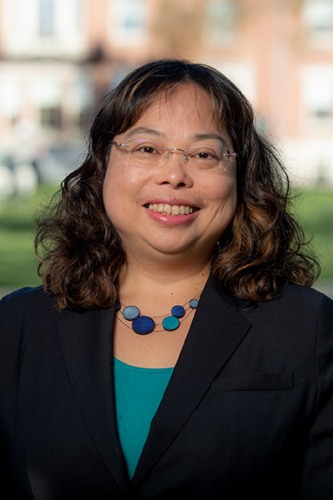 Chia-Ying Pan
Associate Dean of the College for International Students
Areas of Expertise
Curricular Practical Training (International Students), Degree Completion, Home Country Study Away, International Student Advising Programs and Support, Professional Track Double Concentrating, Transfer Credit for International Undergraduates (F-1 only)
As one of the College's academic deans, Dean Pan advises and mentors Brown undergraduates for success in the context of Brown's Open Curriculum. As academic dean for international students, Dean Pan also serves as the primary academic advising dean for the international undergraduate community, advocating for policies that support the unique needs of international students at Brown. In this role, she collaborates with colleagues at the Global Brown Center for International Students and the Office of Global Engagement to ensure robust academic support and programming for international students. She also provides academic advising for F-1 students who are seeking work authorization to gain professional experiences through Curricular Practical Training (CPT) and Optional Practical Training (OPT).
Previously, Dean Pan served as the Director of International Student Services at Wesleyan University, where she led a team of professional staff who facilitated students' understanding and compliance of federal immigration regulations. She oversaw services that supported vital aspects of international students' lives including academic advancement, leadership development, career exploration, and intercultural adaptation. Prior Wesleyan, Dean Pan worked at Columbia University as the Director of Education, Outreach and International Student Support in the Office of Multicultural Affairs and at the University of Pennsylvania as the Director of the Office of Learning Resources in the Weingarten Learning Resources Center.
Dean Pan is passionate about facilitating intercultural and intergroup dialogues among different identity groups. She is a Qualified Administrator (QA) for the Intercultural Development Inventory (IDI). Chia-Ying is trained to administer a wide range of intercultural competence assessment tools such as the Global Competence Aptitude Assessment (GCAA), Global Competencies Inventory (GCI), and Intercultural Effectiveness Scale (IES). Her professional and research interests include academic resilience, identity development of international students, non-Western voices on social justice education, and academic support for non-native English speakers.