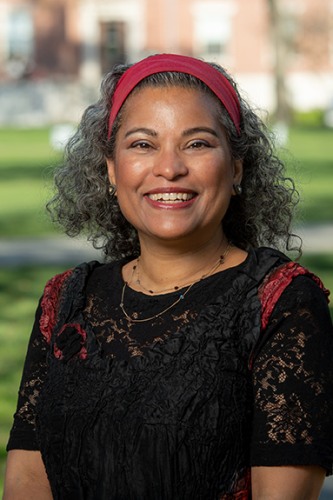 Maitrayee Bhattacharyya
Senior Associate Dean for Diversity, Equity, and Inclusion
Areas of Expertise
Advanced Standing, Committee on Academic Standing, Degree Completion, Sidney Frank Scholars Advising Programs and Support, Team Enhanced Advising & Mentoring (TEAM)
Maitrayee earned an A.B at Brown University with concentrations in International Relations and French Studies and her A.M in 2000 and her Ph.D. in 2006 in Sociology at Princeton University. As a college junior, she completed a C.E.P. at L'Institut D'Études Politiques de Paris (Sciences Po). Understanding issues of race and representation in higher education as well as the adaptation of immigrants and children of immigrants in the United States has been integral to her studies, research, and work as an administrator.
Maitrayee Bhattacharyya currently serves as the Senior Associate Dean for Diversity, Equity, and Inclusion in the Office of the Dean of the College at Brown University. Maitrayee began her work at Brown University as the Assistant Dean for Diversity Programs, a position newly created in the dean's office in 2007, and as Associate Dean also became the Director of the Brown University-Tougaloo College Partnership (2011-2016), a unique partnership of more than 50 years. Her current responsibilities include managing all undergraduate student-facing programs at Brown for the Partnership and working to advance the goals outlined in the University's Diversity and Inclusion Action Plan (DIAP), along with oversight of the longstanding Transfer and Resumed Undergraduate Education (RUE) advising programs and the newly launched Financial Advising program in the Office of the Dean of the College. Maitrayee also created the Team Enhanced Advising and Mentoring (TEAM) program for advisors. Before joining the Dean's office, she served as Acting Director of the Rhode Island Council for the Humanities, an independent state affiliate of the National Endowment for the Humanities, after overseeing the Council's grant-making activity as Grants Director. Before her doctoral studies at Princeton, she was employed by Gordon and Gordon Associates, a non-profit consulting group aimed at improving academic achievement of students of diverse backgrounds.
She has been an active Brown alum, having served as the Vice President of the class of 1991, on the Multicultural Alumni Committee of the Brown Alumni Association, and as a founding member of the Asian/Asian American Alumni Alliance (A4).