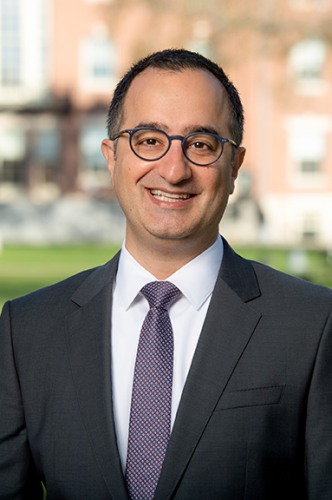 Rashid Zia
Dean of the College
Rashid Zia is the Dean of the College and a Professor of Engineering & Physics at Brown University. As Dean of the College, he is the senior undergraduate academic officer, and oversees a broad range of administrative departments, including the Center for Careers and Life After Brown (CareerLAB), the Office of International Programs, and the Swearer Center for Public Service.
Rashid is both a product and champion of Brown's Open Curriculum. He received his combined A.B./ Sc.B. in English & American Literature and Electrical Engineering from Brown University in 2001. He returned to join the faculty at Brown in 2006 after completing his M.S. and Ph.D. in electrical engineering from Stanford University.
Rashid is an advocate of liberal education, and has served as a Fellow of the National Forum on the Future of Liberal Education. For his teaching, he has received the Philip J. Bray Award for Teaching Excellence and Henry Merritt Wriston Fellowship as well as the Brown School of Engineering's Dedicated Faculty Award and its inaugural Faculty Award for Commitment to Diversity.
His research group works at the interface of ele­ctrical engineering, materials science, optical physics, and physical chemistry to study the interaction of light and matter. For this work, he has received a National Science Foundation CAREER Award and a Presidential Early Career Award for Scientists and Engineers (PECASE), the highest honor bestowed by the United States government for young researchers. He is a Fellow of The Optical Society, and successfully served as the lead investigator for the Air Force's Quantum Metaphotonics & Metamaterials MURI program, a large-scale six-year research grant that brought together leading research groups from Brown, Caltech, MIT, Penn, Stanford, UC Berkeley, and UT Austin. His current research focuses on the integration of computational and experimental science in order to enable new photonic devices as well as strengthen and expand access to higher education.