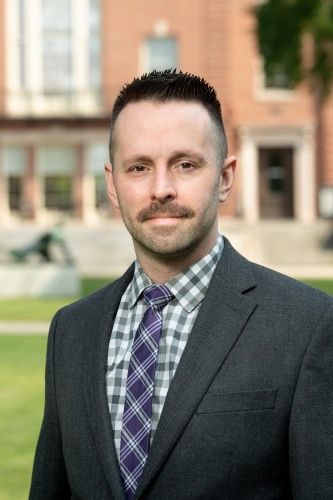 Timothy Shiner
Senior Associate Dean of Advising
Areas of Expertise
Bereavement Grief Support and Referral, Personal and Health Concerns, Courseload Reduction, Orientation, Sophomore Advising Programs, Degree Completion
As Senior Associate Dean for Advising, Timothy Shiner oversees the class-year and health/personal advising team. Tim works closely with team members to ensure best practices in individualized student support, as well as collaboration and connection between the class-year and health/personal advising team and other areas of the division and the campus more broadly. He provides academic advising and support for undergraduates, serves on the campus Care Team and provides consultation on supporting students to campus partners, faculty and families.
Prior to transitioning to his current role in the College, Tim served as Senior Associate Dean and Director of Student Support Services in the Division of Campus Life where he worked to support students experiencing a range of health and personal challenges. He led review and overhaul of processes related to medical leaves of absence and the administrator-on-call system, and collaborated closely with Campus Life and College partners on structural improvements to student support systems, particularly around issues of diversity, equity and inclusion. He originally joined Brown as the Director of the Stephen Robert '62 Campus Center & Student Activities Office in 2012. Prior to his work at Brown, Tim served as Director of Student Activities at Wesleyan University, and as Program Coordinator at the University of Vermont Women's Center, focusing on sexual violence prevention and response, as well as intersectional identity programming.
Tim holds a B.S. in psychology from Colorado State University and an M.Ed. in higher education and student affairs from the University of Vermont.